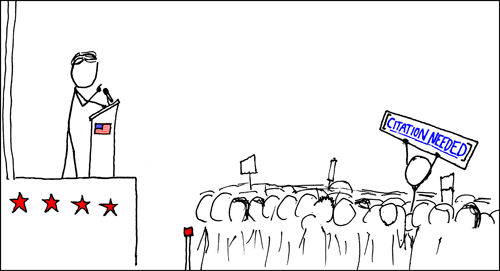 Why cite sources? Basic reasons include:
Whether you are quoting, paraphrasing, copying and pasting, or just referencing, you do need to cite:
Anyone else's articulated ideas, arguments, opinions, or experiences.

Artwork, pictures, videos, or other creative works produced by others.

Direct quotations of any words written or spoken by others.

Unique phrases or terms coined by others.

Data, statistics, or facts produced or documented by others.

Published research details and results, whether conducted by you or others.

And much more!
Please remember this list is not exhaustive, and it does apply to most citation style guidelines! If you're uncertain when to cite something, check with your instructor, ask a librarian, or seek the answer in the appropriate style manual.
Image used under Creative Commons License from Randall Munroe